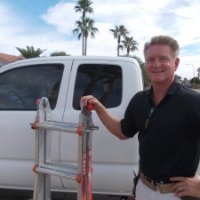 With over 25 years in the building and real estate industries, I discovered that building inspections was the right niche for me. With over 5,000 inspections performed, I have learned to enjoy meeting new people and helping them make confident decisions. I'm very detail-oriented and focused on my work, but I am always more than happy to answer your questions and explain my findings.
I am a Licensed and Certified Home Inspector in the State of AZ (AZ #50338), as well as a Licensed Termite Inspector (State of AZ #100087) and every home inspection includes a state certified termite inspection at a discounted price.
In addition, each year I devote as much time as possible to continuing my education, including environmental issues like mold, radon and thermal imaging, so that I can bring as much current knowledge and skill to my work as possible.
My customers are welcome to ask questions both during the inspection process and after they have received the inspection report. Afterwards, we'll walk the property together and go over my findings. I'll also offer advice regarding the maintenance of your home.
While I encourage you to be present, if you are unable to attend, my inspection report will make you feel as though you were there, complete with expandable photos and video. The report includes a link to a Create Request List feature that helps foster better communication with your real estate agent and keeps your project moving forward. Should you have any questions about the report findings, please contact me at (623) 202-5129 or markkenney1@cox.net.
Professional Licenses
State of Arizona license for Home Inspectors (AZ #50338)
State of Arizona license for Termite Inspections (AZ #100087)
Professional Certifications
ASHI Certified Home Inspector (#251755)
InterNACHI Certified Home Inspector (#14072712)
International Association of Indoor Air Consultants (IAC2) Certification for Mold Testing
IAC2 Certification for Radon Testing
Certification for Thermal Imaging (FLIR Technology)
School of Building Inspection: Certifications for Levels One, Two
OSHA Certifications
If you want more information, read my Testimonials, or contact me at (623) 202-5129 or markkenney1@cox.net. I guarantee that I will show up for your inspection ready to work and do all I can to provide you with reliable information and comfort that you can make good decisions.